The launch of issue 4 is just around the corner! It will be available for purchase from January 27th.
Nova's utility apron!
We have all loved working on this issue, which is dedicated to solids and hope you are inspired to make your own solid creation.
Category : Issue 4 | Blog
This fortnights Fat Quarterly Fabric pack has been selected by Nova.
A fun selection of Timeless Treasure's organic cotton Daisies, Kei Honeycomb Dots & Quilters Linen….

This fabric pack is available at Fabricworm
Would you like the chance to win some amazing prizes AND feature in an issue of Fat Quarterly?
We are holding a 2 category competition on patterns seen in Issue 1, 2, 3, 4 (soon to be released) and the Christmas Special.
All you need to do is make something from any of the above issues and send your entry to winstuff@fatquarterly.com
The competition will be split into 2 categories:
Category A: Quilts
Category B: Other Projects
We will award 3 prizes per category, a first prize and two runners up.

Category A – 1st Prize: A copy of EQ7 and a feature in an upcoming issue
Category A – runners up: Two people will receive generous fabric packs
Category B -1st Prize: Craft book bundle and a feature in an upcoming issue
Category B – runners up: Two people will receive generous fabric packs
Entries close end of March with winners drawn in April
Entries will be judged by Fat Quarterly and one guest judge to be announced.
What are you waiting for? Grab the button and start making!
Conditions of Entry
1 entry per person per category

Entries sent to winstuff@fatquarterly.com

Include a max of 2 photos of made item

Include in entry: name, address, email address, blog or flickr address, category entering and issue project was seen in.
You may have seen on the news that Queensland, Australia is experiencing horrific flooding.
Lives have been lost, homes are under water and thousands of people are living in evacuation centers.
You can see some of the devastation here.
In an effort to do our crafty bit we have joined Toni?s Flood Relief Appeal Auctions.
You can read all about the appeal on Toni?s blog Make it Perfect but basically, we are offering up 5 Fat Quarterly subscriptions and holding a raffle.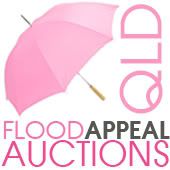 This giveaway is open to everyone no matter where you live.
To enter this giveaway you must donate $5 to the Premier's Flood Relief Appeal.
You may enter as many times as you like but each entry / donation must have a separate receipt number.
Leave a comment/s below with your receipt number.
5 winners will be drawn on Wednesday 26th January.
Please help spread the word!
There have been some stunning 'Winter Blue' images sent to the Community & Inspiration group on Flickr.
1. 82.365, 2. custom work, 3. Chris's Quilt, 4. DQS9 by Poppyprint, 5. work in progress, 6. Pin Toppers, 7. The Blues [Feb 2, 08], 8. Boro Blues – Stitched Patched and Quilted Wall Hanging, 9. Linen and Denim Stripe Block Quilt
Thank you to everyone who participated, the next theme is 'Rich Reds' and a mosaic will be posted on the 25th January.
Start sending your 'Rich Red' images here.
The new year is all about fresh starts and resolutions and it is no different here. In this space we want to start showcasing a little more of what you, our readers create.
Each fortnight, a theme will be set and we welcome you to add any photos that you think fit this theme. Then a selection of photos (around 9-10) will be selected and posted here, the Fat Quarterly website.
The first theme is 'Winter Blues'.
Photo credit: http://www.flickr.com/photos/22031601@N02/
Photo credit: http://www.flickr.com/photos/ilariaonthesky/
You can join the flickr group here and while you are there take a look at some of the amazing – all things blue – photos that have already been added.
Photo credit: http://www.flickr.com/photos/blueberrypark/
The first mosaic will be shown on January 11th.
Each fortnight a Fat Quarterly team member will put together a bundle of fabric that we think will make a fantastic quilt.
First up, is a lovely selection of fabric put together by Kate.
This bundle can be purcashed from the Fat Quarter Shop, here.
Happy New Year! We hope that 2011 is filled with laughter and creativity.
The winner of the 'Betty Dear' bundle is comment number 66.
Hen said… Love that fabric! My favourite thing was a vintage crazy patchwork throw we spotted at a street market in the West Country. My other half had sneaked back to get it without me knowing and then there it was, on Xmas day! I now have it covering the chair in my sewing room, looking mighty fine.
Congratulations Hen! Please email your postal details to customerservice@fatquarterly.com
Category : giveaway | Blog