Today's the day! Fat Quarterly Issue 8 — our paper-piecing issue — is now available for purchase. What will you find in issue 8? In addition to all the instructions you'll need to make the ingenious wall clock above, the perfect accessory for a quilter's studio as designed by Sylvie Roussel, as well as 6 original quilt patterns, 4 pillow tutorials, a potholder, a tea cozy, gobs o' new quilt blocks, and a whole lot more.
At only $8, it's still the best value in all of quilt-land!
Head on over to our Buy Now page to order your copy and, as always, we can't wait to hear what you think!
If pillows are your thing, then we've got you more than covered with our newest issue.
These two variations of the same pillow top pattern represent Aylin Ozturk's contribution to issue 8.  Full paper-piecing templates are available for the Starflower pillow as well as for its counterpart, the Flowerstar pillow.
Our own Tacha Bruecher made the above pillow, a variation of the classic apple core pattern hand-sewn using paper templates and made with Lotta Jansdotter's new Echo line.
And here's a striking pillow that Lynne calls her Summer Trees pillow.  She used fabrics from Lucie Summers' upcoming line for Moda Fabrics, Summersville, to give this pillow its fresh and modern look.
Would you believe me if I said there were even more pillow patterns in issue 8?  'Tis true, along with 6 original quilt patterns, tons of quilt block patterns, all-new features, and more.  You can purchase issue 8 of Fat Quarterly through our buy page starting tomorrow, Tuesday 31 January.
When we set out to compile an issue all about paper piecing, we didn't want to do it without the fabulously talented Penny Layman of Sew Take a Hike.  That's why we're thrilled that issue 8 features this whimsical Elixir Bottle wall hanging, a Penny original.
Find this fun project and lots, lots more in issue 8 of Fat Quarterly, on sale for single issue purchase this Tuesday, 31 January.
Here's another sneak peek at an all-new, original quilt pattern that you'll only find in issue 8 of Fat Quarterly.  This one was designed and made by our very own John, and it showcases Kate Spain's newest fabric collection for Moda, Good Fortune.  He calls it Double Happiness, and hopes making it brings as much happiness to you as it did to him.
Issue 8 of Fat Quarterly begins hitting subscribers' email boxes TODAY, and goes on sale for individual purchase on Tuesday, 1/31.
We've been hard at work preparing Issue 8 of Fat Quarterly for all of our wonderful readers & subscribers.  Emails will begin going out to our subscribers tomorrow with your access codes, and Issue 8 will go on sale for general purchase on Tuesday, January 31st.  To celebrate, we've invited a special friend to introduce our theme for this issue to you …
Well, hello there!  Who is this?  It's our Geared-Up Robot, here to reveal that issue 8 of Fat Quarterly is all about paper piecing!  The Geared-Up Robot was designed and made by Jenny Novinsky for the Electric Quilt Company, and you can find Jenny's pattern — as well as a useful guide on how to use EQ7 to design your own cute stuffed figures — in issue 8.
Stay tuned for more sneak peeks of projects from our newest issue.
Well if you want to join in with a whole gang of other quilters all around the world, all working on the same quilt, all at the same time, all in different fabrics, all in your own homes but chatting online about how you're getting along, then a quiltalong is what you need and there are plenty to choose from at the moment.  Here are a few that might tempt you.  Leave us a comment below letting us know if anything on this list has already tempted you or if you are in the middle of one we haven't listed (and there are plenty more out there).
Swoonalong
Masterminded by the mad genius that is our very own Katy Jones aka I'm a Ginger Monkey, already 450 quilters all around the globe are making the wonderful Swoon quilt designed by Camille Roskelly.  Go here to join the fun filled Flickr group. And here is a quilt kit you can buy for the quilt from Robert Kaufman.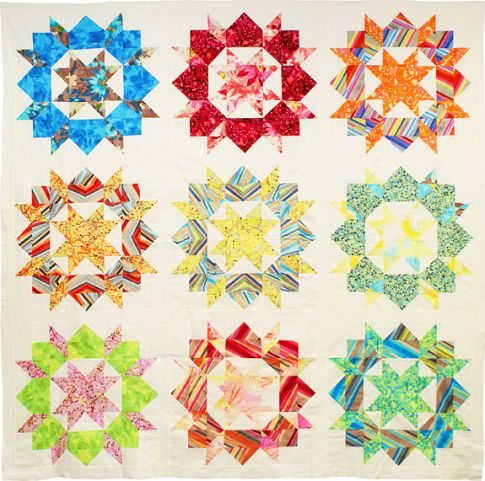 Bust Yo Scraps
Brenda from the Pink Castle fabric shop and Just a Bit Frayed is hosting a scrap busting QAL to make this wonderful quilt.  Head on over to this starter post to get going on this QAL and start busting yo scraps.  Wow, when I say that I sound American.
Chelsea at Pins and Bobbins is hosting a Made in Cherry QAL making Sarah Fielke's wonderful quilt shown below:
Erin and Ali have taken Pantone's colour of the year and launched the Tangerine Challenge challenging quilters to make something using tangerine coloured fabrics.  Find the Flickr group here where you can find the rules of the challenge.   Here are Erin's two most tangerine fabrics according to her Kona colour card.
And if, like many of us out there in quiltblogland, you are going to try to shop from you stash as much as possible this year, then Rachel's Scrap Attack QAL is the one you want.  A series of inspiring tutorials will help you on your way as you make a scrap quilt and join in the fun over at Stitched in Color. The picture below shows a tutorial by scrap queen Chawne.
There are plenty more QALs out there.  Please feel free to leave links in the comments to any you are running or playing along with if they are not listed here.  And whether or not they are listed here, let us know which ones you're playing along with!
I had heard a lot of talk about Aurifil threads so jumped at the chance of having a play.
I had already made the pillow top from a little pack of 2 1/2″ squares stolen from Katy's Houston Quilt Market haul so couldn't believe that when i got some threads in the postthat they pretty much matched. A plan by the quilting Gods maybe?  A few more spools nabbed from Lynne when i was at her house at Christmas and i was all set.
I have never used Aurifil threads before so this was a great opportunity to fiddle around, see how my machine liked them and see what effect the different thread weights had on the stitches.
I quilted it by cross hatching the whole thing in the lighter weight thread, used a template and pencil to add the stars and then stitched the stars using the heavier weight threads. My normal domestic machine LOVED the threads without even having to fine tune the tension, and trust me that is quite impressive given my machine hates just about all quilting thread!!
I loved the hairyness (is that really a word?) of the heavier weight threads and loved how smooth the thinner weights were.
I needed more cushions like i needed a hole in the head but my sofa is now proudly sporting it's new addition.
Who wouldn't jump at the opportunity for a little playing when Fat Quarterly asked for volunteers for an Aurifil Design Challenge!  For me that is equal to 'Play Time!'  As a regular user of Aurifil, for piecing and free motion quilting both on my New English Quilter frame and in the traditional sense of free motion quilting, I was immediately curious if the heavier weight threads would play as nice as the 40 and 50 weight I'm familiar with.  I had a little scrap of Kona mid grey (not sure of the exact colour) which had been fused with a medium weight interfacing. Perfect! The 12 wt thread is thick, really thick, so I put in a size 100/16 needle and threaded my faithful Bernie to see how it played. I already had a 50 wt in the bobbin, (my choice of piecing thread and bobbin thread) and went for it.
You can see the difference in the needle sizes, it's important to match the right needle and thread.
So I played a little with the thread, and ended up quilting all over the piece of fabric. What was particularly exciting for me was the texture that the quilting created, adding a whole new dimension to the fabric. Because of this, I was keen to turn it 'into' something, rather than just having a sample. And so a little zipper pouch was created.
I'm really pleased with the initial play I had with the 12 wt thread, because this really was just playing. Yes, I had a few issues with tension, but that is because I was using such a heavy weight thread on the top and too fine a thread in the bobbin. My Bernie has the bobbin tension set on the loose side, and the tension on top I adjusted to 0 as this was such a thick thread.
I have a plan for the other threads, and was thrilled the colours are right up my street!   What I really enjoyed was the simple act of 'playing' with this thread.
Thank you Fat Quarterly team for the opportunity to PLAY!
Are you interested in trying something new to the market?  Jenny Pedigo of Sew Kind of Wonderful has designed a ruler called the Quick Curve Ruler.  Over a year ago Jenny discovered how a simple curve shape could make so many different quilt designs and so the Quick Curve Ruler was developed.
Jenny has designed six fabulous patterns using her ruler as well as one free pattern which you can find on her blog.  Here are a couple of her quilt designs:
Jenny has produced up 3 helpful videos on how to use the ruler which you can find on her blog.
Jenny and I are looking for ten willing volunteers to try out her ruler and see what they can come up with.  If you would be interested in trying out the ruler, taking some photos of what you have made for the Fat Quarterly blog and writing up a blogpost or tutorial on what you made, please leave a comment below and Jenny and I will pick ten volunteers and mail them the ruler.
Hi! I'm Julianna and I blog over at Sewing Under Rainbow.
A big thanks to Fat Quarterly team and Aurifil for Fat Quarterly's Aurifil Thread Challenge!  When I got e-mail telling me that I'll be participating in this challenge, I was very excited. I haven't got opportunity to test such threads in the past (I use mainly polycotton threads of local manufacturers).  When I opened my Aurifil package:
I just knew that these threads are different than these I usually use!  I decided to make simple pillow and try machine quilting to show the beauty of hexagons. I used two colors of Aurifil threads (gray 1158 and pink 4020 – both cotton).
I'm really pleased with working with these threads. The details make huge difference! They fit spool pin in my machine perfectly, when I cut it using automatic thread cutter they don't divide in smaller parts and sewing with them it's absolutely perfect! Just look at the stitches and you'll know why I love Aurifil threads:
I got also red wool thread – I'll use them to hand stitch table runner (too late for this year's Christmas):
I'm sure that my adventure with Aurifil threads just begun!  I hope that soon Polish stores will have it and I'll be able to buy it (so far only one on-line store has one color of Aurifil threads).