Well if you want to join in with a whole gang of other quilters all around the world, all working on the same quilt, all at the same time, all in different fabrics, all in your own homes but chatting online about how you're getting along, then a quiltalong is what you need and there are plenty to choose from at the moment.  Here are a few that might tempt you.  Leave us a comment below letting us know if anything on this list has already tempted you or if you are in the middle of one we haven't listed (and there are plenty more out there).
Swoonalong
Masterminded by the mad genius that is our very own Katy Jones aka I'm a Ginger Monkey, already 450 quilters all around the globe are making the wonderful Swoon quilt designed by Camille Roskelly.  Go here to join the fun filled Flickr group. And here is a quilt kit you can buy for the quilt from Robert Kaufman.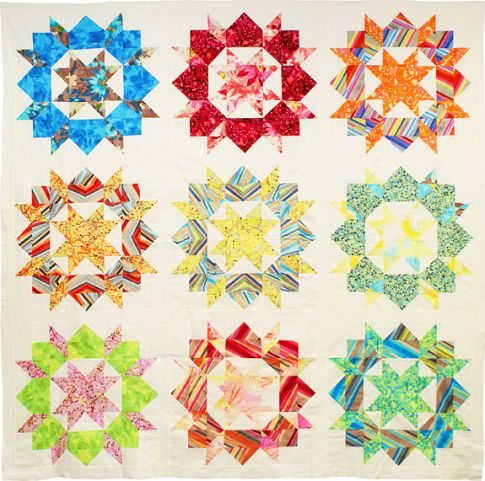 Bust Yo Scraps
Brenda from the Pink Castle fabric shop and Just a Bit Frayed is hosting a scrap busting QAL to make this wonderful quilt.  Head on over to this starter post to get going on this QAL and start busting yo scraps.  Wow, when I say that I sound American.
Chelsea at Pins and Bobbins is hosting a Made in Cherry QAL making Sarah Fielke's wonderful quilt shown below:
Erin and Ali have taken Pantone's colour of the year and launched the Tangerine Challenge challenging quilters to make something using tangerine coloured fabrics.  Find the Flickr group here where you can find the rules of the challenge.   Here are Erin's two most tangerine fabrics according to her Kona colour card.
And if, like many of us out there in quiltblogland, you are going to try to shop from you stash as much as possible this year, then Rachel's Scrap Attack QAL is the one you want.  A series of inspiring tutorials will help you on your way as you make a scrap quilt and join in the fun over at Stitched in Color. The picture below shows a tutorial by scrap queen Chawne.
There are plenty more QALs out there.  Please feel free to leave links in the comments to any you are running or playing along with if they are not listed here.  And whether or not they are listed here, let us know which ones you're playing along with!