As Katy and I were strolling through the maze of booths at Quilt Market this past Spring — truth be told, we were on the hunt for Aneela! — we happened across the booth of one of Moda Fabrics' newest design teams: Cabbages & Roses.  Though I was unfamiliar with the brand, I was completely taken by the warm, cozy, casual, vintage, shabby chic vibe that the booth (and everything in it) was giving off.
As you all know by now, Katy is not only a Brit but is finely tuned into all things fashionable.  She explained to me that Cabbages & Roses is a quite well-known lifestyle brand in the U.K. for its clothes, housewares, books, and premium fabrics, all sold via their own retail shops.  We were both excited to see that their fabrics — and, more broadly, their design aesthetic — will be more widely available to a global audience with the release of their first line with Moda, Northcote Range.  We wanted to introduce our Fat Quarterly readers to the women behind Cabbages & Roses, Christina and Kate, and learn a bit more about their new line.
Photo courtesy of Jona at Stop staring and start sewing!
From the Moda site:
Since its inception in the year 2000, CABBAGES & ROSES has become a staple British brand in both the women's wear and home textile industries. The gentle faded florals and deconstructed antique prints have won the brand acclaim worldwide. With exposure in numerous magazines including Country Living, and five books published, C&R are the authority on the vintage chic style of English Country living. The vision for their premier collection for Moda remains the same, fresh, faded and long lasting – a vintage look in a nostalgic color palette that encourages a timeless feel.
This unabashedly British quilt adorned the Cabbages & Roses booth, and will be available as a kit from the Fat Quarter Shop come September.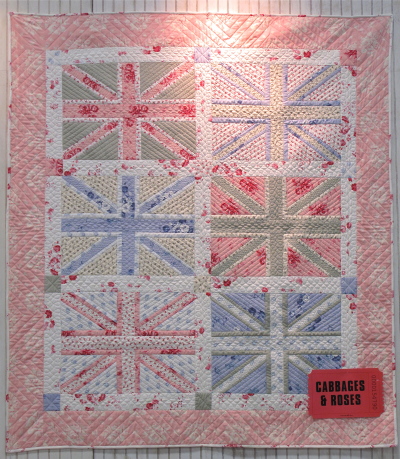 Photo courtesy of Calli at Make it Do
Let's listen in as Katy has a chat with Christina and Kate …
–
Christina and Kate, welcome to Fat Quarterly! For those of our readers who may not yet be familiar with the C&R brand, could you describe the ethos and style behind your product?
Cabbages & Roses was created to fill a gap in the market (and my wardrobe). Our products are both classic and quirky and easily slip into everyday life – eminently versatile and beautiful with an unmistakably Cabbages style. All our products – from our furnishing fabrics to our clothes – are made to the highest specification but always with an eye on the environment. Our woven clothes are made in London and our fabrics are printed with environmentally friendly colours reducing our carbon footprint to around 17 miles- to our studio in Kew.
Your first collection of fabrics with Moda (Northcote Range) has a wonderfully rustic and English feel to them and are very much in the typical style of Cabbages & Roses. What was the design process behind the collection?
FOR THIS COLLECTION WE WENT BACK TO OUR ROOTS AND THOUGHT ABOUT RE-CREATING THE WONDERFUL OLD FASHIONED QUILTS THAT ARE NOW FOUND AT ANTIQUES MARKETS BUT COST A HUGE FORTUNE TO BUY.   I WORKED WITH AMY GIBBONS AND WE GATHERED VINTAGE SCRAPS AND CREATED THE COLLECTION AROUND THEM INCORPORATING LARGER DRAWN ROSES WITH SMALLER DITZY PRINTS.
What is the significance of the name, Northcote Range?
ALL OUR FABRIC RANGES ARE NAMED AFTER A SIGNIFICANT PLACE OR MOMENT IN OUR CABBAGE LIVES.   NORTHCOTE WAS OUR FOURTH SHOP AND IS IN A CHARMING PART OF LONDON CALLED BATTERSEA.
How can you envisage the collection being used? And by whom?
I ENVISAGE THE COLLECTION BEING USED FOR ALL MANNER OF THINGS FROM DRAPES TO DRESSES, CUSHIONS TO BLOUSES AND TABLECLOTHS AND NAPKINS – WE HAVE PRODUCED A BOOK NAMED VINTAGE CRAFTS WITH MANY IDEAS OF HOW TO PUT FABRIC TO GOOD AND INTERESTING USE.
For those of us already familiar with the fabrics sold online at www.cabbagesandroses.com or in your stores, what is the difference between those and Northcote Range?
THE NORTHCOTE RANGE IS MAINLY MADE FROM COTTON WHEREAS OUR FABRICS ARE MADE FROM LINEN.  OUR OWN FABRICS ARE MAINLY USED FOR FURNISHING AND THE NORTHCOTE RANGE IS PERHAPS MORE VERSATILE AS FAR AS HOME SEWING IS CONCERNED.
Kate – you have followed your mother into the family business, was it something you always wanted to do?
I STARTED IN PUBLISHING BUT ALWAYS ADMIRED WHAT MY MOTHER HAD CREATED. I BEGGED TO WORK FOR C&R FOR A LONG TIME AND WROTE UP A HUGE REPORT TO TRY TO PERSUADE HER AND HER BUSINESS PARTNER TO LET ME START WORKING FOR C&R. EVENTUALLY SHE GAVE IN WHEN AN OPENING CAME UP – I STARTED OUT AS THE OFFICE ASSISTANT AND HAVE NEVER LOOKED BACK.
How do the two of you get on working together? Do you have similar ideas and tastes, or do you sometimes have a conflict of opinion?
WE ACTUALLY WORK QUITE SEPARATELY DAY TO DAY AS I AM NOT VERY CREATIVE, IT'S THE BEST THING I COULD EVER HAVE DONE TO WORK WITH CHRISTINA, SHE IS AN INSPIRATION (I THINK ALL IN THE OFFICE WOULD AGREE) SHE HAS MUCH BETTER TASTE THAN ME, BUT I ALWAYS ENJOY SOMETIMES BEING ASKED WHAT I THINK. WE HAVE HAD ONE ARGUMENT IN THE WHOLE TIME WE HAVE WORKED TOGETHER – POSSIBLY ABOUT THE BLOG, I CAN'T REMEMBER – I STICK TO SPREADSHEETS AND EMAILS, SHE STICKS TO CREATING BEAUTIFUL THINGS.
Christina, your background is within interior design and styling, what made you branch out into your own lifestyle company back in 2000?
WHEN I FOUND THAT THE FABRICS AND DESIGNS I REALLY WANTED TO USE WERE UNAVAILABLE, IT MADE SENSE TO PRODUCE THOSE THINGS MYSELF.
You have grown to become a highly coveted and respected brand within the UK, this year sees a 6th book release 'Vintage Chic' out this month (July) and Northcote Range is expected to ship to stores this Fall.
THE BOOK VINTAGE CHIC WAS ACTUALLY FIRST PUBLISHED IN 2003, THIS IS A RE-PRINT – MY PUBLISHERS SAW THE SUCCESS OF OUR OTHER FIVE BOOKS AND DECIDED TO RE-LAUNCH IT – I THINK IT HAD ALREADY HAD FIVE RE-PRINTS, THIS WILL BE ITS SIXTH!
What is next for the both of you?
WE ARE WORKING ON VARIOUS PROJECTS, IN THE IMMEDIATE FUTURE WE ARE OPENING ANOTHER AREA IN A DEPARTMENT STORE IN TOKYO AND ARE LOOKING FORWARD TO LAUNCHING OUR NEW CLOTHING COLLECTION IN SEPTEMBER.
–
Thanks so much, Christina & Kate!  Can't wait to get your hands on Northcote Range?  What would you make with it?  Precuts of the line are currently available with yardage expected to arrive in shops in September.  Happy sewing!