Today we're thrilled to welcome designer Josephine Kimberling to the Fat Quarterly blog.  Following the success of her first two collections with Robert Kaufman fabrics, Hot Blossom and Glam Garden, Josephine is excited to launch her latest line of fantastically floral fabrics: Just Dandy!
We're excited too, because Just Dandy! was another of our favorite new lines at Quilt Market this spring.  We saw two quilts made from Julie Herman's new jaybird quilts Chopsticks pattern in Josephine's fabrics and we fell in love.  (By the way, Julie paired several prints from the line with Kaufman's Quilter's Linen, and it was as if the two lines were meant to be together!)  Josephine's even provided us with our newest blog masthead — if you're reading this via an RSS feed, be sure to jump over to check it out.  It's ADORABLE!!  (We might just keep this one  ; )
We're also excited because our good friends at Robert Kaufman are giving away bundles of Just Dandy! to a few lucky Fat Quarterly readers.  Please join us in getting to know Josephine a bit better and learn a bit more about Just Dandy!  After the interview we'll let you know how to enter to win some great fabric.
Welcome to Fat Quarterly Josephine, and congratulations on the release of Just Dandy! What three words would you use to describe your newest collection?
Thanks so much for inviting me!  Just Dandy can be summed up in the following three words:
Vintage
Lighthearted
Sweet
We were lucky enough to see Just Dandy — and several quilts made from the line — at Quilt Market last month. We were immediately struck by the beautiful colors, and especially the linen-like textures that you used in the designs. From where did you draw your color inspiration for the line?
Oh fun! Thanks! As part of my process for designing collections, I create mood boards out of color inspiration that I've gathered from various sources – mostly runway, fashion, lifestyle & home magazines. From there I create color palettes inspired by those images and also incorporating my own color sense. I then try a variety of color palettes out on a collection, and see what makes it 'sing'. Some color stories can be truly fabulous, but not connect with a collection or bring out the best in the prints – there's a lot of push and pull for me when working with color to get it just right.
Can you tell us a little bit about each of the prints in the line? How might each print be best used in different types of projects?
I'd love to!
DAISY CHAIN (AJG-11333) In my gathering of mood images for this collection, I really was gravitating towards summer days, exuberance and joy, and was thinking of being a kid in California and how we would sit at the park and make daisy necklaces, which I felt sat well in the Just Dandy theme.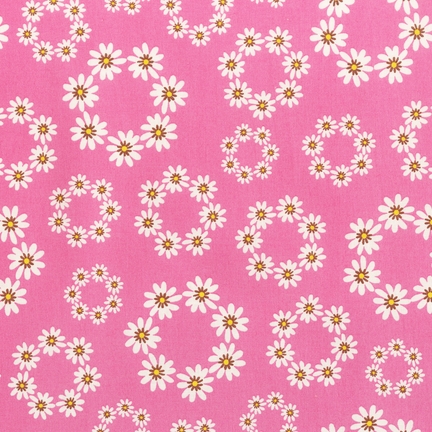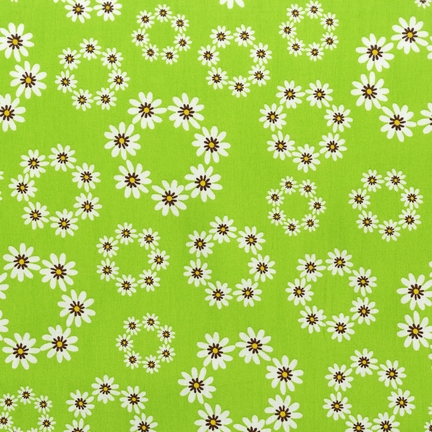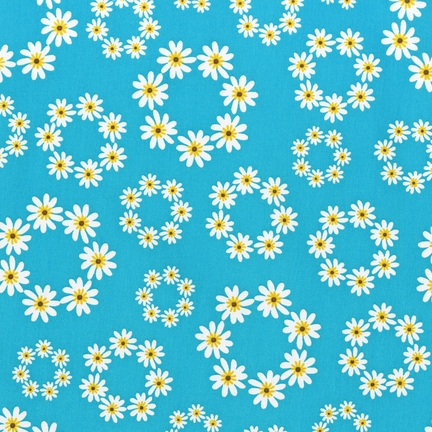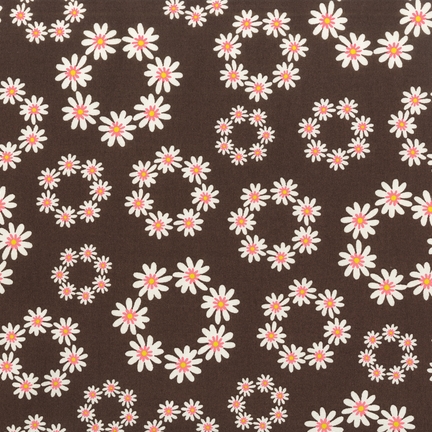 MOD DAISY STRIPE (AJG-11339) This print was actually inspired by a rubber stamp that I designed. I created a set of flower petals that when rotated and stamped again and again would create multiple overlapping petals. I just loved it so much that I turned it into a print! Because of the scale of this print, and the one-way direction, I can definitely see this in a little girls dress, crafting projects such as an iPAD or laptop cover or a fun handbag.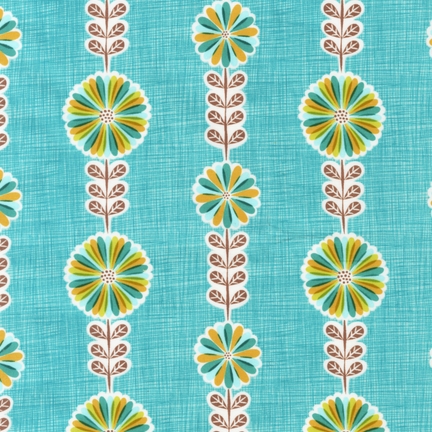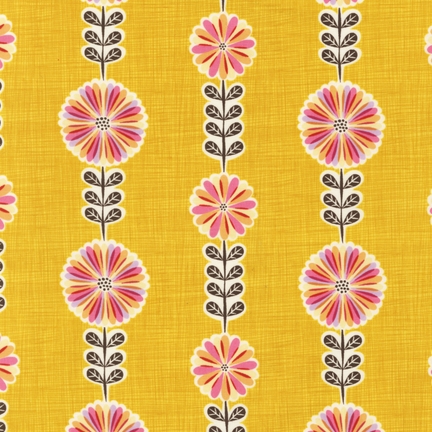 POPPY FIELD (AJG-11337) I really enjoy drawing line drawings of 'realistic' flowers, and was inspired to put together a garden bed of flowers with a focus on the poppy – forcing myself to keep the colors to a minimum (which is hard for me!), and still keep it interesting looking.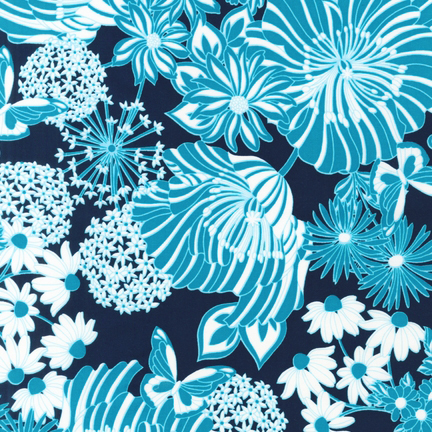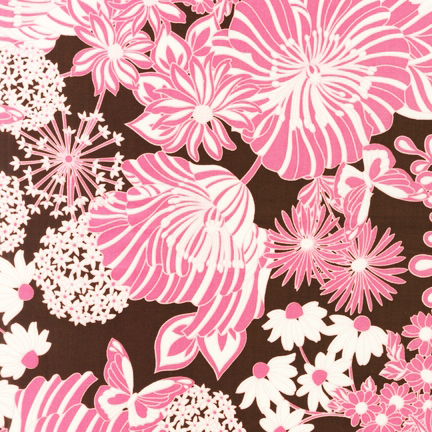 DOT TAC TOE (AJG-11336) The crosshatch in the prints inspired me to add a drawn hatching to these dots to tie the prints together. I absolutely LOVE the navy/mustard version of this print as I think it has a really cool vintage feel to it. It's actually one of my favorites! I can see this in anything – I mostly picture it in a little boy's button-up shirt or tie, a shrunken jacket, or a cross-body handbag.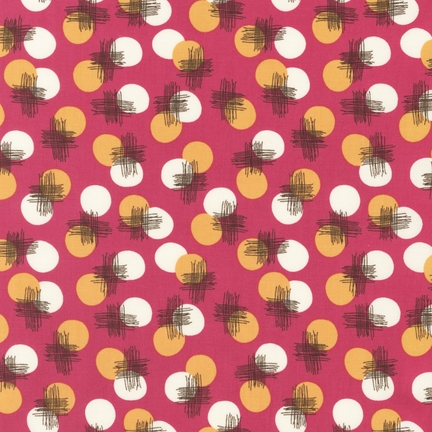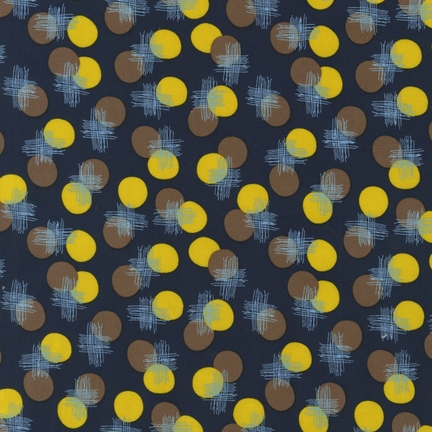 DANDELION GARDEN (AJG-11334) Since the ditsy print has been in a high trend cycle, I wanted to contribute my version of a ditsy, and did so by clustering multiple flowers together to create this print. This is one that I can definitely see being worn in practically any garment – skirts, shrunken jacket, maxi dress, button-up tunic top and the like.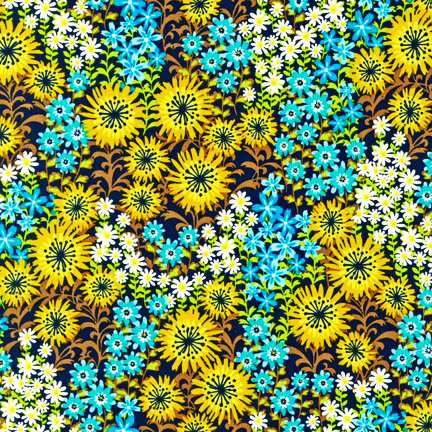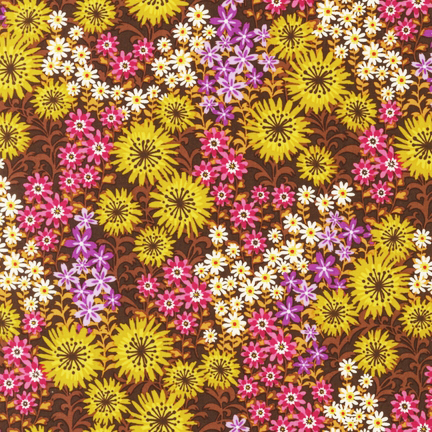 DISCO DOTS (AJG-11335) I was exploring creating a dot print – and I have a really hard time creating simple prints. No matter how hard I try, I'm just drawn to detail in prints. So what's better than a dot but dots within dots! Because of the white ground in this print, I can see it as a layered skirt or dress, a summer tank or tunic, or bedding for kiddo's.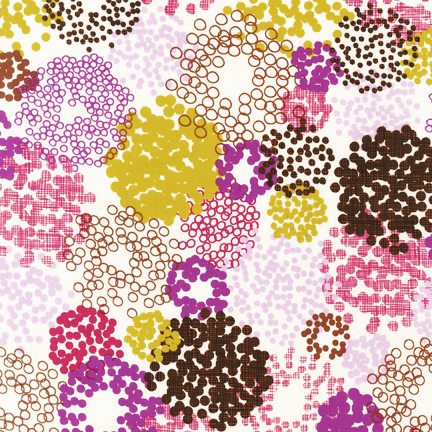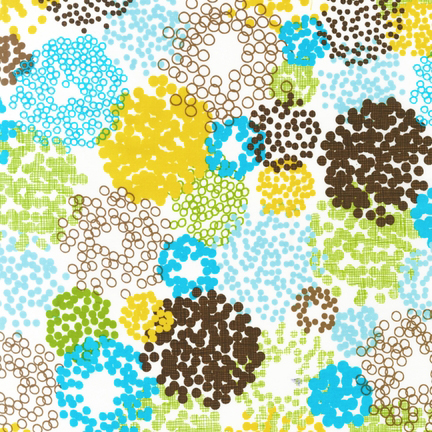 JUST DANDY (AJG-11338) I was inspired to create this print to contribute to the retro feel of this group. Dandelion prints have been on trend for quite a while, and while I usually steer clear of direct trends and go in the opposite direction, this time the trend was up my alley, so I thought I'd contribute to it. I think this print would work great in home décor projects and crafting projects such as an iPAD cover, book cover.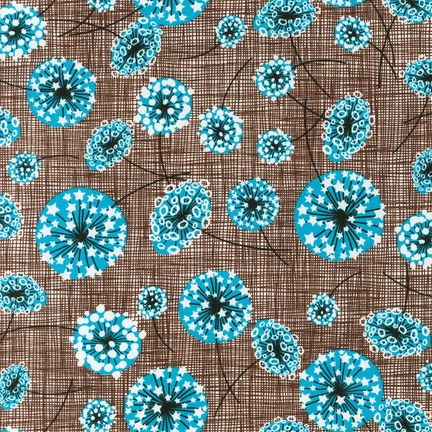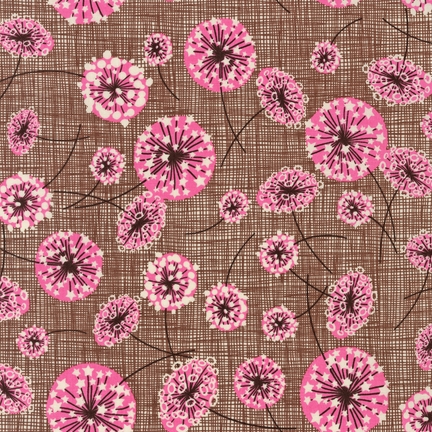 We were also big fans of your previous lines, Hot Blossom and Glam Garden. How is Just Dandy different from your first two lines, and what have you learned about fabric design in general over the course of developing all of your fabric collections?
Thanks! To me, Just Dandy is different from Hot Blossom and Glam Garden in that it has a bit of a younger feel, and swings toward 60s mod, with my own twist. The Petunia and Blue Jay colorways in Just Dandy are unique in that they use analogous colors on the color wheel.
I have had the opportunity to learn a lot about the fabric industry over the past 3 years. One of the biggest things I've learned and continue to learn is how to create a collection of prints that can sit well together.
Your bio says that you began your career as a textile designer for Nordstrom. Was that a fun position? How did it prepare you for your current endeavors?
I worked for Nordstrom for 10 years, and just left my position there in May! I've been designing fabrics on the side for the past 3 years, while working full-time, and just recently decided to take the leap to work for myself. Working for Nordstrom was a wonderful opportunity and gave me a very well rounded background, which has really set me up for success for my new business.
Working there taught me how to track and interpret fashion trends, how to create artwork and flex my artistic style for a variety of consumers, the process of textile development through production, creating and giving trend presentations, and business skills. I use all of these skills in my new day job.
Are you a quilter or sewist in general? What are your personal creative pursuits?
I am a beginner sewer and I haven't quilted – yet! I took a sewing class with a good friend a few years ago, and sewed quite a few garments from my Hot Blossom & Glam Garden lines, which was a lot of fun and helped me grow a lot.
As I've had an intense job in the fashion industry for 10 years, and spent most of my free time working on fabric collections on the side for the past 3, I didn't have much time for anything else. Now that I have more time on my hands with my own business (I finally have a weekend now!), I'm excited to re-discover creative pursuits and hobbies aside from creating artwork. I keep looking around my house and seeing projects that I would love to make such as lamp shades, pillows, and floor cushions. I'm excited to be able to explore again!
Let's get back to Just Dandy. What types of projects do you think would provide a perfect vehicle for using this collection?
I'm a bit biased, but I would say fashionable clothing! Whenever I design a print I always ask myself "Would I wear that?" It's ingrained in my point of view now. It was a lot of fun to decide what garments to sew for my photo shoot, and I think they interpreted really well! Because of the blue and pink color stories, I can also see these as unique baby quilts & crib bedding, home décor and handbags – definitely handbags.
Besides your own, what are 5 prints that are currently on the market within the quilting industry that you just love? What do you love about each one?
Gosh, this is really hard as there's a lot of talent out there..hmmm… I would say the following:
1) TULA PINK: Parisville Collection – Cameo: I absolutely love Tula's imagination and how she incorporates hidden beauty in her designs. This print really speaks to me as in college I would draw old ships with women looking off into the horizon of the sea. Strange, but it's true!
2) AMY BUTLER: Love Collection – Sandlewood in Turquoise: My absolute favorite color is aqua. Love it. I gravitate to it like a moth to flame.
3) HELEN DARDIK – Too Muchery in Brown: It's Helen Dardik – need I say more? I LOVE her work!
4) ANNA MARIA HORNER – Innocent Crush Collection: Shattered in Sun: I love this print because triangles and angular prints have been really hot in the art and fashion world, and I feel like she broke the mold by bringing this concept into quilting fabrics.
5) ANNA MARIA HORNER: Loulouthi Collection – Summer Totem: Because it's just gorgeous!
I truly enjoy and appreciate the detail involved in artwork that a designer creates. It just resonates with me. That's what I love about all of these prints. As an artist, it's my applauding these designers for their mad skills.
Although we're just now celebrating the release of Just Dandy, we're already curious about what's next. Can you give us any hints about what we might see in your next collection?
I'm currently in the works with 2 different collections, as I enjoy the process more when I can work on a couple different collections at a time. It keeps my juices flowing. So, I'm not sure which one will beat the other to the end of the race! Stay tuned…
–
So, whaddaya think?  Are you as inspired as we are to start sewing something?  We'll chalk it up to Josephine's amazing photography … and, of course, her amazing fabric design.
Well, lucky for you we have a few Just Dandy bundles to give away!  All you have to do is leave a comment here on this post, letting us know which is your favorite print from the Just Dandy collection.  We'll randomly select a winner some time next week.
Happy sewing!
–
Edited to add: Comments are now closed.  Thanks for playing along!