As the dust settles on the Fat Quarterly London retreat, we need to take a moment to thank a few people.
The biggest thank you, by a country mile, goes to every single one of you who took the leap of faith and parted with your hard earned cash to buy a ticket for an event organised by a bunch of people with not even one hour of event organisation between them.  Your faith, enthusiasm and willingness to jump right on in and support us is the one thing that overwhelmed us all.  You were all so friendly, chatty, fun, sometimes even downright silly, hard working, hard talking and inclusive.  We didn't want cliques and people being left out and, as far as we could see, everyone chatted to everyone else and mixed and moved and shared so that, even someone coming along who didn't know a soul, did not feel left out.  The thought that you came, joined in and supported us for this weekend was what made us all cry like babies on Sunday night after you'd left.  OK well John and Brioni didn't cry.  In fact they laughed at us for crying but you get my point.
Secondly we need to thank what I will call our big fat sponsors.  Most people organising an event like this will be trying to buy themselves a Ferrari at the end of it or at least a mini or perhaps a bicycle.  We were hoping to break even.  Nuts?  Well maybe.  We didn't want to organise an event for the rich quilters.  We wanted to organise an event for the quilters.  Sponsorship from our six BIG FAT SPONSORS was the key to keeping our prices as low as possible.  And those BIG FAT SIX SPONSORS were:
The mighty Moda fabrics, producers of everyone's favourite pre-cuts and fabric lines;
Aurifil threads (yes, they are the best threads and don't you forget it);
Oakshott shot cottons (did you meet Michael and Julia Oakshott on Saturday as they strolled the floor?);
Sizzix die cutters (did you get a chance to try one out?);
Robert Kaufman (who filled our goodie bags with FQs); and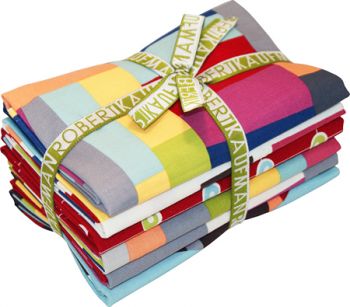 Pfaff (who drove into central London on Jubilee weekend with 20 machines for us and then drove right back in again on Jubilee weekend to collect them and what fabulous machines the Ambition 1.5 are).
We also had extras in our goodie bags from Korbond and Abakhan Fabrics as well as support from each of the advertisers you will see in the special London Retreat FQ issue coming out very soon.
The next thank you goes to the team / crew / gang at Baden Powell House, Maurice, Steph and Robin.  Attendees may or may not have noticed these three.  Setting up the rooms, cleaning the rooms, re arranging the rooms, re-organising our cabling, providing us with all their spare extension cables when we (somewhat naively, somewhat foolishly) had turned up with just five (yes, just five…!), teasing us mercilessly (you know it Maurice), laughing at and with us and just smiling and working tirelessly behind the scenes to mask our incompetence.  Yes, they made us look good and for that we will be eternally grateful.
We also need to thank our teachers.  Now there are the announced teachers – Kerry, Lu, Aneela and Claudia.  Each of whom taught the most wonderful classes and inspired so many of you to try something new.  But also some impromptu teachers – Trudi teaching FMQ over Sunday lunch for example.  Diane and Lizzie showing us how to make the most beautiful Liberty necklaces.  And then teachers within the lessons.  In each of my lessons, so many people helped each other, showed their methods and techniques, offered support and encouragement, lent pins, cutters, irons even sewing machines.  The event became so much more than just Katy, John, Tacha, Brioni and Lynne.
And a last but for me not least thank you to Mandy and Lu.  Now Mandy is my (Lynne) real life friend.  She lives in my village, she sells solids and pre-cuts in my village (I mean not purely for my own convenience you understand but I'm sure not complaining) and she keeps me sane in my village (imagine talking pre-cuts on the school run and you will know just what I mean).  Now Mandy paid for her ticket.  Paid to have a nice lazy weekend learning new things and making new friends.  Did you see her sit down and relax, join all the lessons she signed up for?  No, Mandy spent the weekend pushing those huge blue trolleys up and down the corridors of the retreat, she got us coffees, helped in my lessons, shifted machines, set up cabling, fetched sellotape, hung quilts, moved furniture all just because she's our friend and we love her.
And as for Lu.  She just came along as a teacher.  She came to teach two lessons and then relax.  But she also jumped right in as unofficial useful person.  Since Maurice from Baden Powell House was under the false impression that she was the boss of us, she became master of the keys, master of the lights, unofficial teacher in my class, mover of machines, setter upper of irons, cables and tables.  She bossed, she cajoled, she meddled.  And here's a little secret.  Before I met Lu this weekend, I thought she was going to be an "artist".  You know because she designed her line for Moda, Summersville, and I love it best of all Moda lines.  I thought she would waft about the place being superior and cool and smoking black sobrani cigarettes.  You know, like Cruella de Ville or Anna Wintour.  But boy was I suprised.  She is down to earth, side splittingly funny, very sweet and kind, happy to chat endlessly about the intricacies of fabric design and precision quilting and, along with Mandy, an integral part of the weekend and quite indispensible.  And by "quite" I mean "totally".

Oh gosh just one more thank you from the member of the FQ team who joined the team after this event was conceived.  Thank you to each of Katy, Brioni, Tacha and John for having the vision to conceive of a quilting weekend in central London on Jubilee weekend.  Mad, everyone said.  Crazy.  That won't work.  But let me tell you, it did work, we five had the best weekend ever and we hope you did too.  If you couldn't make it this year…watch this space…